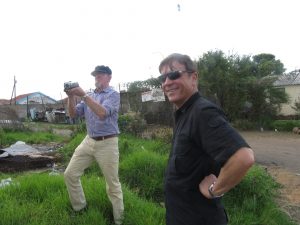 Early Spring 2012, Janny and husband Jaap met old friends and relatives in South Africa, at times in the company of South African Rev. Louis Krüger. Who would have thought that this would be the last journey we had together. As it is, Janny went down to memory lane to meet old friends. She has talked to Mr. Patrick who manages one of the projects. Joop Lensink supervises. Jaap (RIP) was a fundraiser for these projects. Nurse Sibungili and Mr. Patrick (former sales manager of Nestlé) know that progress is made slowly but surely. These two friends set the example of strong people who collaborate to help others to help themselves. themselves.
However, in fact, it is a shame that the South African government and schools stipulate that pupils of particular primary and secondary schools should wear school uniforms and matching shoes, but does not provide the facilities for the really poor to acquire these items.Without the proper attire, they cannot attend classes. It is just one example of a government taking the self interest of its cabinet ministers first and foremost.
PREVIOUS actions of the Drag Anchor decorated Janny (please read elsewhere on this site for further explanation) still go on. She still supports the idea of making the statue in a dedication of the Unknown Docker reality. The idea of materialising the statue Unknown Docker – made by Sandy Warnaar – is supported by Chief Marketing Officer Mai Elmar and other bigwigs in Rotterdam. The scheme as to how is still under discussion.
Janny has also embarked projects in her own home suburb Vreewijk; the oldest but one Welwyn Garden City look-alike in the Netherlands to safeguard the existence of the characteristic venue Het Witte Paard. Entrepreneurs and the organisation of inhabitants of this specific Rotterdam area can look back on nice festivities on the occasion of the official reopening of the venue Het Witte Paard in the centre of Vreewijk. Today, business is booming.
At the time, hospitality entrepreneurs Daan and Mirjam Kint were brave enough to move their Mediterranean restaurant RoosMarijn to the Het Witte Paard refurbished the building.  They have been pictured together with CEO Hedy van den Berk of the social housing company Havensteder, who has offered the couple gardens' help outside the venue. Connoisseurs living in Vreewijk are happy to have RoosMarijn in Het Witte Paard so close at home.  Please go to www.roos-marijn.nl for further and better particulars.