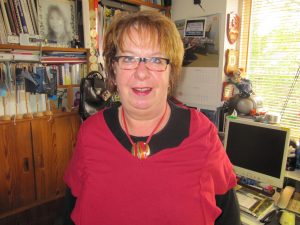 Radio Rijnmond asked me to tell the story of my youth for the program Zonder Eten Naar Bed (roughly translated No Supper: Straight to Bed You Go). In the Dutch announcement of the item That's the Way I grew Up (Zo ben ik groot geworden), it was mentioned that, at times, I felt like a guide dog. The producers of Zonder Eten Naar Bed have successfully saved editions of the program. These are irregularly broadcast.
About my professional life 
At best, a journalist should be curious, a storyteller, and an entertainer. I was not aware that I had all these characteristics in me when I took my first steps on the journalistic career ladder. "Curiosity kills the cat", as the saying is but I've found that my questions to international news sources and their responses mainly as a learning process. In all those years I've contributed to Dutch dailies and special interest magazines and online publications, UK-based special interest magazines and internet-based publications for the maritime industry. I'm no novice in co-hosting on congresses and – briefly at a local radio station – and in writing for in-house magazines and newsletters for Dutch provincial authorities and for the Dutch Shortsea Promotion Centre.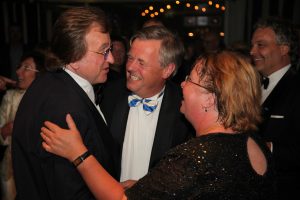 In the 90ties, I also contributed to the communication and marketing special interest magazine Adformatie. At the time I interviewed singer/entertainer Lee – Leen Huijzer – Towers about his work. He takes up his singing work as a 'product' that has to entertain a variety of people. He is very aware of the fact that his success depends on his public. We have become business friends over the years. Please go to https://whbakker.demon.nl/hl26m to get an impression of both of us at the HavenloodsLive show. In the picture is Lee (left), outgoing CEO Harm Post of Groningen Seaports, and I.
News sources and editors who commission me keep me sharp to provide quality work. Priority number one is to be reliable and contribute just in time, if not earlier. I consider my multi-tasking work as added value.
I managed to save one item of a news program about the Havenpersclub Kyoto (a group of Rotterdam-based shipping correspondents I was (board) member of) and the very end of the club. Please listen to it right here. Einde Havenpersclub Kyoto