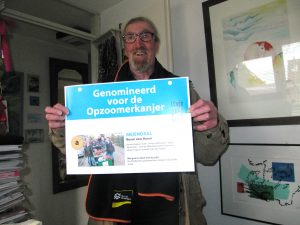 Janny's husband Jaap was one of the many volunteering Dutch who were distinguished by the Queen (or rather the special department of Dutch Queen's Honours) for their outstanding contribution to the Dutch community. A year earlier he received the Rotterdam honour Erasmusspeld.  His last achievement in his life – together with neighbours – was a nomination as a super clean up person in the neighbourhood.  Jaap passed away on 17th February, 2014. More information about our lives together can be found on going to https://youtu.be/lSdDd8h9J4w?list=PLldw9AXtbwt2OHrFxdSuDuoCBhAXNSPkV
Jaap's  heart and that of many others is in the oldest but one garden city in the Netherlands. Please go to https://www.ondernemendvreewijk.nl to find out. Next on the agenda is improving business and life at the green district of Rotterdam. VOV_Vreewijk is on Twitter as well.
Read all about further developments at Janny's page on Facebook, LinkedIn, harbourexpert.simplesite.com and elsewhere on social media.