I've spoken my mind (in Dutch) about proper journalism. Journalists are accused of publishing 'fake news'. The counterparts can be accused of provoking that when they don't respond to queries in order to get the full story. I've found that more and more.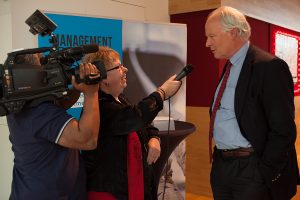 I'm ready for any kind of venture. such as being occasionally hired to act as a roving reporter at congresses (in the pic with economist Sweder van Wijnbergen) and informal get-togethers. All is done from my home base Rotterdam, leading European port and known from it's out of the ordinary architecture. Even Lonely Planet, The New York Times, UK-based dailies and others have recognized Rotterdam's remarkable features and friendly people.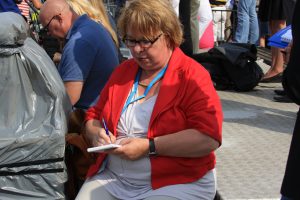 Pictures and videos with me in action is evidence. My channel YouTube and publications on harbourexpert.simplesite.com LinkedIn and Facebook unveil more about my various activities. Please go to https://youtu.be/GYVUIp3Nl20to and to https://youtu.be/qaabrmCLgS0 get an impression of my surroundings and to https://youtu.be/Kvb7_vmIkZY to hear more about the Marine Club Rotterdam. I'm a member/columnist and 'roving reporter'of this networking club of Rotterdam-based entrepreneurs in the maritime industry. Please go to club's website.

 The port of Rotterdam is food for thought of Rotterdam's city poet Derek Otte. Hear him at https://youtu.be/HyW3_VbQh00
Closer to h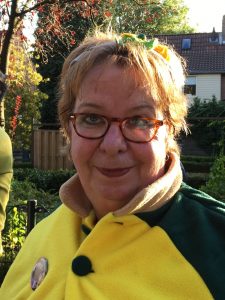 ome suburb Vreewijk the Rotterdam Wijktheater show Status Apart(e) was on stage. It was held at various locations in my neck of the wood in October. I was part of the amateur players on the out of the ordinary stage, acting as a very sluggish guide named Stoffel de Schildpad (Stoffel Tortoise in English)
Curious to know more? https://vimeo.com/jeroeninc/statusaparte 


One thing is clear: the left bank of the river Meuse is the cultural hot spot in Rotterdam, although some civil servants' top brass think otherwise. The cultural evidence can be found in the districts Katendrecht, IJsselmonde, Afrikaanderwijk, Vreewijk and other southern Rotterdam districts.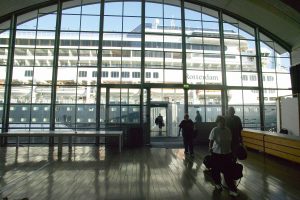 Cruise ship Rotterdam as pictured from the Cruiseterminal Rotterdam atWilhelminakade, Rotterdam; to be more precise, at the left bank of the river. And . . . time to listen to this? https://m.soundcloud.com/jaccovangiessen/boei-3-themauur-kop-van-zuid-riek-bakker It takes some 50 minutes. The item was broadcasted by …….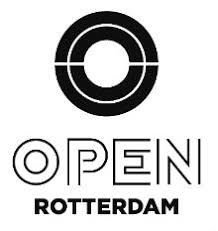 The Rotterdam-based television station Open Rotterdam knows where to find me for local news, when needed.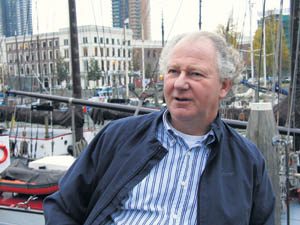 Port physician Willem den Hoed has been retired, but then again he is not. He is active in various areas, including preserving the medical heritage of his father Daniel den Hoed who was in the forefront of research and development of cancer treatment. Until early Spring 2018 Daniel den Hoed's name was clearly visible on the Daniel den Hoed Kliniek building. 'De Danel" still is a household name for all who worked or was treated in this Rotterdam-based clinic, but the Board of Executives of the Erasmus university hospital deemed it fit to move the clinic's practice to the new building of the hospital and call it Erasmus Cancer Centre. True, the name describes what happens inside the building. All those who know what the name of Daniel den Hoed still stands for, regret that his name appears to be faded out for the sake of the international position the Erasmus university hospital aims to have.  One of them certainly is Daniel's son Willem den Hoed. Together with trusted partners (myself included) he established the Daniel den Hoed Foundation. (picture taken by Lies Russel)
All is done from my home base in Rotterdam /Tuindorp Vreewijk