Dutch-based foundation Afrikaad has a heart beating for the people of the Republic of Ghana and all things related to that country and West-African environs. Foundation president Aad van der Munnik brought Ghana home by importing Ghanaian arts and crafts to the Netherlands, thus building up a business network of Ghanaian artists and craftsmen. In the process Van der Munnik and his wife Willy Schols found their core business in Ghana: that of contributing to further developing education and that offering other practical help for the benefit of people living in Ghana.


Afrikaad's logo Funtumfrafo – one of the Akan symbols – stands for unity in diversity, and the oneness of humanity in spite of the differences. It is symbolized in the many-headed crocodile with a single stomach.It is no surprise that Funtumfrafo is in the minds and hearts of all involved in the foundation Afrikaad: both in the Netherlands and in Ghana and elsewhere in West-Africa. Please go to https://www.afrikaad.nl to find more about the work of the couple Van der Munnik/Schols and their friends close to home and far away.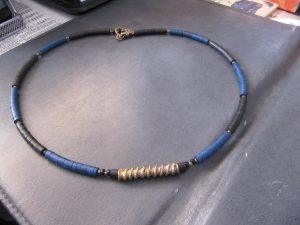 You'll find a wider collection of the beads at Afrikaad's premises in Barendrecht. Janny made more than one necklace from the Afrikaad collection.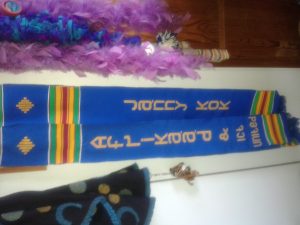 Closer to home is IT Doctor Roderick Guépin, owner of ICT United. He used to cooperate with good old IT Doctor Mike Vuyk. As it is, Roderick's expert sidekick is Lars Bol. Both stand for good support and services on the spot, if needed. It has been noticed by an artist in Ghana, who weaved a shawl with two familiar names. It takes some effort to read them here.
Please find out about the latest developments within ICT United at https://www.ictunited.nl